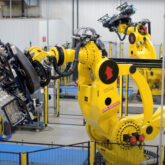 ROBOTIC ROTATIONAL MOLDING
Our exclusive Robomolding technology creates high tolerances with precision-
distributed heat and material control for consistent part repeatability and optimized strength-to-weight ratios. It also allows for unsurpassed design flexibility including the ability to layer different compounds and coatings into finished parts. For these reasons and more, Robomolding technology is ideal for military, OEM, industrial and commercial applications where precision and unsurpassed repeatability are key.
Robomold Plastic Solutions is proud to be the first manufacturer in the United States to offer this leading-edge technology.