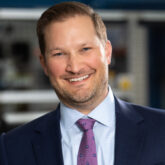 Kris Hanson
Executive Vice President
As Executive Vice President of Customer Experience, Kris leads the front end of our business with responsibilities covering Product Management, Marketing, Customer Experience, Sales and Business Development. He and his teams work diligently to ensure an industry-leading experience for our customers. In his 15 years of experience leading product and marketing teams, Kris has learned that people are the key to success.
With a proven track record of portfolio and product line strategies that drive growth and innovation, Kris leads the team by applying our core values of customer focus, curiosity, and teamwork. Ultimately, the goal is to offer our customers innovative products and services, which lead to mutual growth and opportunity.
When Kris isn't in the office, you might find him traveling with his wife, Dondi, or hunting pheasants with his lab, Finn.
Kris holds a degree in strategic communication from the University of Minnesota and an MBA in marketing and entrepreneurship from the University of Minnesota Carlson School of Management.