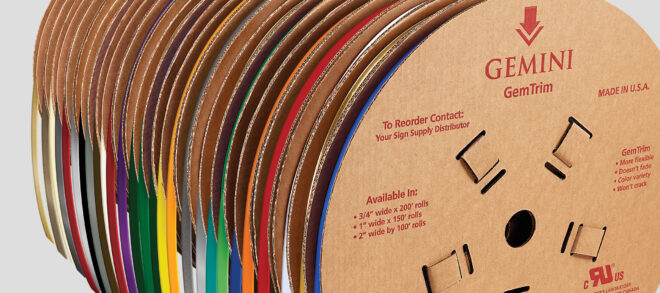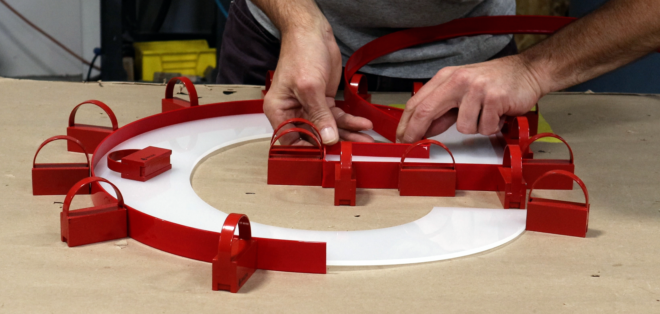 Overview
A New Level of Flexibility
GemTrim™ Flex trim cap offers increased flexibility for easier bending and forming in those tight spots. Expertly crafted in our own manufacturing plants, GemTrim™ Flex bonds easily, is UV stable, won't fade, crack, peel or delaminate, and is available in 3/4-, 1-, and 2-inch-wide rolls. Our wide selection of 31 standard colors is offered through our nationwide distributors.
Available From Trusted Distributors
As part of our goal to improve product availability and delivery of our standard, build-to-stock sign supply products, GemTrim™ Flex will be available exclusively from many of the experienced distributors you're already buying from. Many of these companies are sign industry leaders, and we are proud to partner with them to offer faster, local availability of GemTrim™ Flex.
Premier Partners
International Distributors
Finishing Touches
Earth-friendly, UV-stable, and manufactured in-house. All GemTrim™ trim cap is extruded in-house, using UV-stable, earth-friendly, and durable Cellulose Acetate Butyrate (CAB) plastic extruded around prime aluminum foil.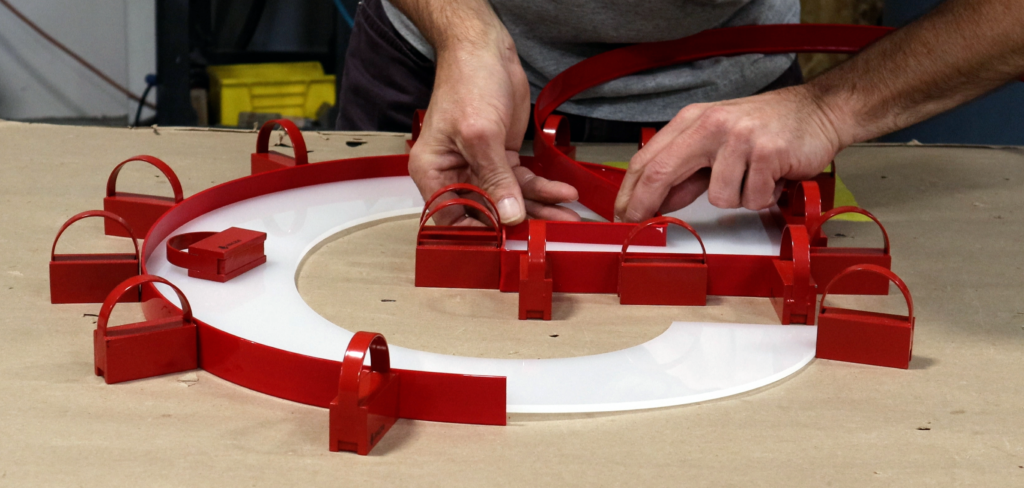 See GemTrim™ Flex in Action
We've just expanded our popular line of ¾" and 1″ wide GemTrim™ trim cap with the addition of 2″ wide rolls in our most requested colors. GemTrim™ Flex is sure to make your sign shop more efficient by decreasing the time it takes to finish jobs and increasing your bottom line.
Contact Us
For more information on GemTrim, call 800.548.3356 or visit our contact page to start a chat or submit a form.
Gemini has always exceeded my expectations. Quality is outstanding. Customer service outstanding. A great partnership.
Options
Trim Width & Lengths
3/4″ Wide x 150′ rolls
1″ Wide x 150′ rolls
2″ Wide x 100′ rolls
GEMTRIM Colors
All colors are available in 1″ wide rolls
* Denotes colors available in 2″ wide
† Denotes colors available in 3/4″ wide
Installation
Installation Magnets
Description
Pull Strength
L x W x H (inches)
Part Number
1″ Handle Magnet
25 lbs.
1 x .75 x 2
MAG100
2″ Handle Magnet
50lbs.
2 x .75 x 2
MAG200
3 3/8″ Handle Magnet,
Straight Extended Side
50 lbs.
3.375 x .75 x 2
MAG338
3.5″ Handle Magnet,
Off-Set Extended Side
50 lbs.
3.5 x .75 x 2
MAG350
4″ Handle Magnet,
Double Extended Sides
50 lbs.
4 x .75 x 2
MAG400