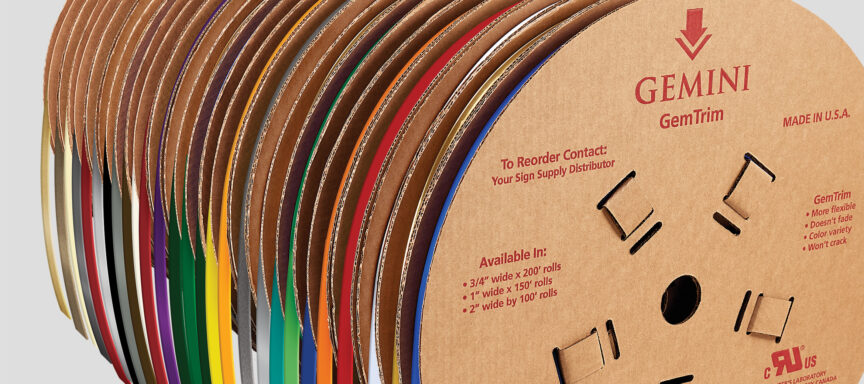 Overview
A New Level of Flexibility
GemTrim trim cap offers increased flexibility for easier bending and forming in those tight spots. Expertly crafted in our own manufacturing plants, GemTrim bonds easily, is UV stable, won't fade, crack, peel or delaminate, and is available in three widths. Our wide selection of 31 standard colors is offered through our nationwide network of stocking partners.
Finishing Touches
Earth-friendly, UV-stable, and manufactured in-house. All GemTrim trim cap is imprinted with a UL-recognized marking, signifying its UL-recognized component status for its lit letter channel letter applications. GemTrim is profile-extruded in-house, using UV-stable, earth-friendly, and durable Cellulose Acetate Butyrate (CAB) plastic extruded around prime aluminum foil.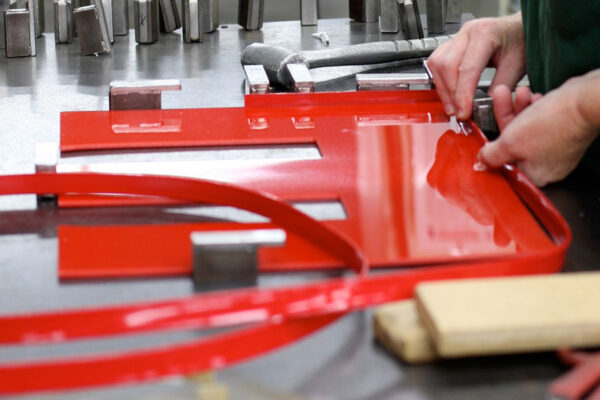 Improved Availability
As part of our goal to improve product availability and delivery of our standard, build-to-stock sign supply products, GemTrim trim cap will be exclusively available from many of the experienced, stocking sign distributors you're already buying from. We're selecting our distributor partners very carefully, ensuring the same care and consideration you receive from our family-owned business is a strong part of their culture and philosophy as well. Many of these companies are sign industry leaders, and we are proud to partner with them to offer faster, local availability of GemTrim products in-stock, with the expertise you need.
Distributors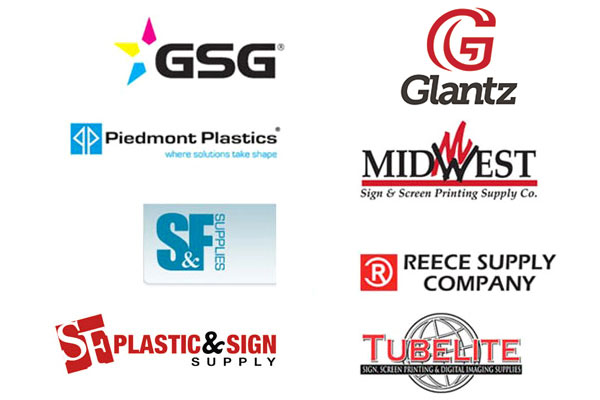 Introducing 2″ Wide GEMTRIM
We've just expanded our popular line of ¾" and 1″ wide GemTrim trim cap with the addition of 2″ wide rolls in our most requested colors. GemTrim lets you add accent color, depth, and structural integrity to the channel letters you're producing in your shop. Industry-leading GemTrim bonds easily, is UV stable, and won't fade, crack, peel or delaminate. We have an industry-leading selection of 31 standard colors available in-stock through our nationwide network of stocking distributors. Custom color matches are also available for your specific projects, please call for details.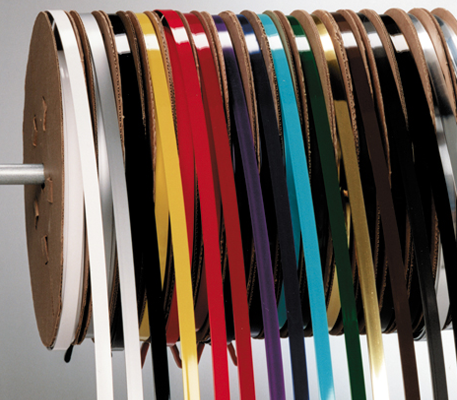 Gemini has always exceeded my expectations. Quality is outstanding. Customer service outstanding. A great partnership.
Options
Trim Width
3/4″, 1″ and 2″ wide GemTrim Rolls
Trim Length
Rolls: 3/4″ Wide x 150′; 1″ Wide x 150′; 2″ Wide x 100′
* Available in 2″ wide
† Available in 1″ wide only
Installation
Getting Started
For more information on installation instructions and videos, product drawings and information on mounting patterns, visit the Installation page.
Install Process
GemTrim is designed for trimming routed plastic letter faces. Acrylic faces: tack inside joints using WELD-ON #4, then run a full bead of WELD-ON #16, to seal. Allow to dry before removing any support braces. LEXAN faces: tack inside faces with a solvent, such as Methylene Chloride, then run a full bead of WELD-ON #16 or #40, to seal.